Description
Advanced Navigation for the Camping Enthusiast
RV routing¹ and road warnings help guide your RV or towable trailer
Use the Smartphone Link app² to access live traffic, basic weather and more
Hands-free features include Bluetooth® calling³, smart notifications5 and voice-activated navigation
Directory of RV Parks & Services; filter campground search results based on your preferred amenities
Includes HEMA POI's
Built-in Wi-Fi® for easy Australia and New Zealand map and software updates when you're on the road; no computer needed
RV 775 MT-S is Garmins advanced navigator for your roving RV lifestyle. It allows you to enjoy the freedom of the open road while traveling with helpful guidance features. RV 775 MT-S is a large, easy-to-view GPS navigator with a 6.95" edge-to-edge touchscreen display that fits prominently in an RV or your car. It provides road warnings and custom routing¹ based on the size and weight specifications of your RV or towable trailer. It even includes a directory to RV Parks & Services. It also features Easy Route Shaping, Elevation Profile information and millions more new and popular places to visit and explore, thanks to TripAdvisor® and Foursquare®.
Drive with Customized RV Routing
Just input the specs of your RV or towable trailer, and thenRV 775 MT-S will use your RV profile¹ to find the most efficient route across Australia and New Zealand. Your route will be determined based on the height, weight, length and width specifications of your vehicle.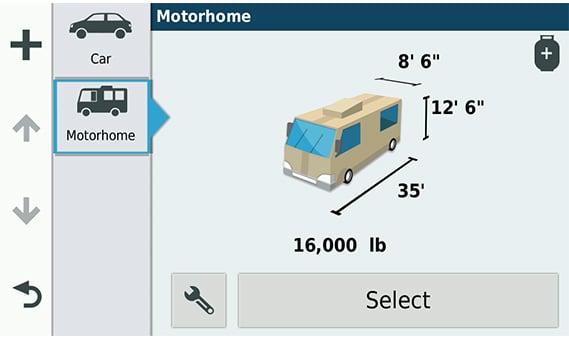 Easily Locate RV Parks & Services
RV 775 MT-S features a directory of RV Parks & Services. This comprehensive listing of RV parks and campgrounds contains nearly 20,000 sites in the U.S. and Canada, including national and state parks and privately owned campgrounds. You can easily search this directory by preferred amenities — such as pet-friendly, on-site laundry, electric hookups — so you can easily find what you want away from home. The directory also includes more than 14,000 RV-specific service locations, including towing, tire shops, truck stops and repairs.

More Information at a Glance
RV 770 LMT-S keeps your driving map onscreen at all times, and additional information appears alongside. RV 775 MT-S displays speed limit, current speed and estimated time of arrival. No matter where you are, always know what's close. The Up Ahead feature is a constant stream of nearby places — including restaurants, stores, hospitals and fuel stations — that appears alongside your driving map and updates as you move along your route.
Friendly Guidance from Garmin Real Directions™
Redefine "spoken turn-by-turn" directions with Garmin Real Directions. Our easy-to-understand driving directions use recognizable landmarks, buildings and traffic lights in addition to spoken street names, guiding you as if your best friend is sitting in the passenger seat. No more squinting to read distant street signs. Just listen for Real Directions to tell you, "Turn left after the QT," or "Turn right after the red building." Following directions has never been easier.
Navigate Complex Interchanges with Ease
RV 775 MT-S navigator has Active Lane Guidance (ALG). ALG uses voice prompts and brightly colored arrows to indicate the proper lane needed for your route. photoReal Junction View shows exits as they appear in real life — in full color and great detail. Bird's Eye Junction View offers a detailed view of interchanges, looking down from overhead.
Wi-Fi Keeps You up to Date
We're making it easy to keep your navigator up to date with built-in Wi-Fi. You don't need a computer or even a software program to perform these easy updates. Whenever a new map or software update is available and you're connected to a home Wi-Fi network or any public Wi-Fi network that doesn't require web browser sign-in, your navigator's home screen will show a prompt indicating an available update. Simply plug your device into any outlet, and, as it charges, let your device update over Wi-Fi .